The GRP of the North Kazakhstan region for 2018 amounted to KZT 821.2 billion (the share of the region's GRP in the GRP of the Republic of Kazakhstan was 2.1%). Among the regions of Kazakhstan in terms of GRP, North Kazakhstan region is in 12th place.



In the structure of the GRP of the North Kazakhstan region, services account for 66% or 540.3 billion tenge, for goods - 34% or 280.9 billion tenge. At the same time, in GRP by goods, the largest volume was accounted for agriculture - 62.3% or 175 billion tenge, the share of industry was 37.7% or 101.8 billion tenge.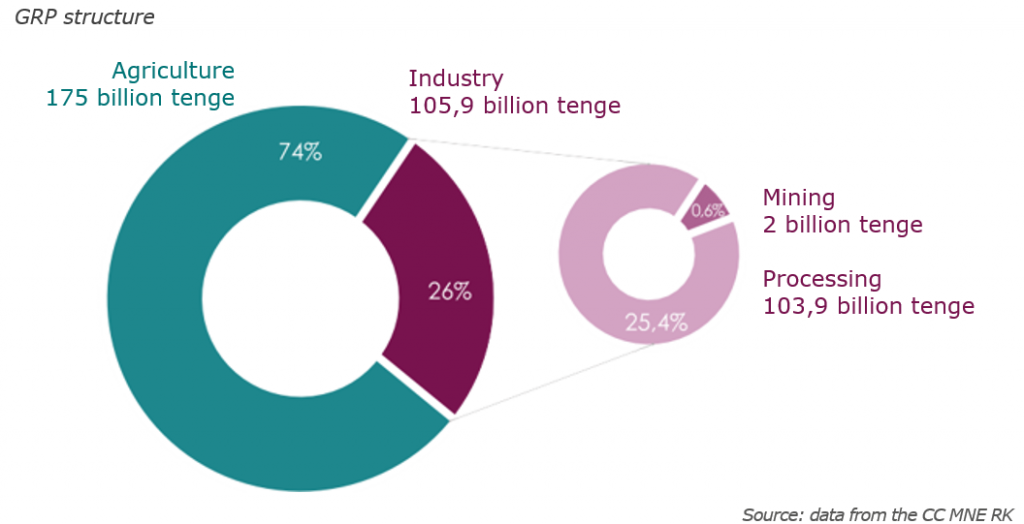 The volume of gross agricultural output in January-December 2018 amounted to 518.6 billion tenge with a physical volume index of 104.3%, including for crop production 371.8 billion tenge (IFO - 101.8%), for livestock 146 , 1 billion tenge (IFO –102.7%).

Crop production
In 2018, the total area under crop in the region was 4.2 million hectares, which is 89,793 hectares less than in 2017. The area of ​​grain and leguminous plants was 2.8 million hectares, including wheat 1.9 million hectares. Wheat areas increased to the level of 2017 by 128.4 thousand hectares. Thus, oilseeds were located on an area of ​​976 thousand hectares, forage crops - on an area of ​​414.6 thousand hectares. The areas of potatoes and vegetables, respectively, amounted to 37.4 thousand hectares and 6.6 thousand hectares.

Under the 2018 harvest, the volume of grains seeds covered with grain is 490.6 thousand tons.

Herbicidal treatment plan to hold on 2.8 million hectares.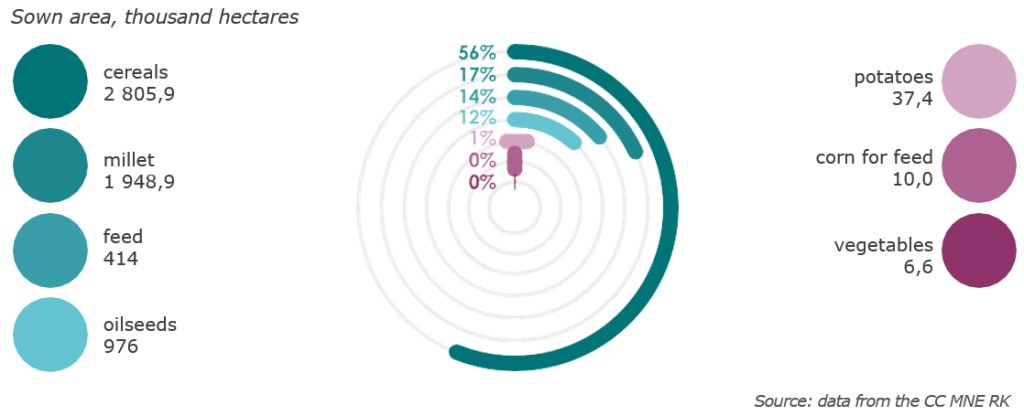 Livestock
The head of cattle was 373 thousand heads, pigs - 147.3 thousand heads, sheep and goats - 378.6 thousand heads, horses - 112.8 thousand heads, birds - 4.4 million heads.

Production volumes amounted to: meat in live weight - 9 725.9 tons, milk - 16 810.3 tons, egg - 53 193.3 thousand pieces.



Industry
In 2018, the industrial sector of the region produced products, rendered industrial services in the amount of 105.9 billion tenge, the physical volume index was 96.8%.



Food production increased by 6%, beverages by 75.6%, textiles by 2.1 times, basic pharmaceutical products by 2.7 times, other non-metal products by 6.3%, chemical products - by 46.7%, production of other vehicles - by 19.8%, electricity, gas, steam and air conditioning - by 9.1%, water supply, sewage system - by 6.3%



Production volumes in the metallurgical industry decreased by 70.6%, machine building by 10.4%, clothing by 2.3%, wood and cork products by 4.9%, paper and paper products by 27%, rubber and plastic products - by 3.2%, finished metal products - by 49.9%.

At present, three main areas have been formed in the engineering industry - oil and gas, transport and agricultural engineering.

Production volumes are increasing due to the release of import-substituting products for complexes of the Republic of Kazakhstan.

In the engineering industry, which occupies 23.2% of the manufacturing industry, the output was 40.7 billion tenge.

The order book of engineering enterprises in 2018 amounted to 36.8 billion tenge, the largest volumes of contracts accounted for oil and gas companies - 8.2 billion tenge and railway complexes - 17.2 billion tenge. Within the framework of the concluded contracts, products were manufactured in the amount of 24.1 billion tenge.

The food industry takes up more than half the manufacturing industry. In 2018, the volume of food industry production amounted to 110.0 billion tenge, which is 6% more than in 2017. Positive trends were achieved in the production of flour - 32.7%, fresh bread - by 1.5%, cheese and curd-6.6%, butter - by 1.6%, confectionery - by 12.0%, and finished feed for animals - by 11.5%, alcoholic beverages - 2 times.

In recent years, the milling industry has also been developing, making it possible to produce competitive products on the basis of highly efficient innovative technologies. Flour mills provide the saturation of the consumer market and demonstrate at this stage a high degree of competitiveness.