The investor expanded the production of rapeseed oil in the North Kazakhstan region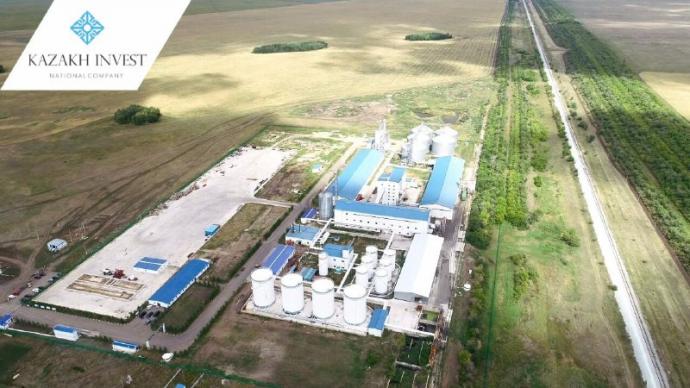 A new workshop for leaching meal was launched by the Kazakh-Chinese company Tayinsha-May LLP in the North Kazakhstan region. The total amount of the project implemented with the support of "KAZAKH INVEST" NC" JSC amounted to $ 19 million. The company has created about 100 permanent jobs.

In 2016, a rapeseed oil plant was launched, processing 360 thousand tons of rapeseed per year. Later, the management of the Chinese company decided to expand the creamery. The escalation included the construction of an administrative building, 5 rapeseed storage silos with a capacity of 5 thousand tons, as well as 2 drying equipment with a capacity of 50 tons per hour and a leaching shop. The capacity of the project is 165 thousand tons of meal or 15 thousand tons of oil per year.

"Our plant is one of the most modern and technologically advanced in the country. We started the expansion project for the creamery in 2019 and planned to complete it in 2020, but the pandemic has made its own adjustments. In this connection, we were forced to postpone the launch of a new workshop. There were problems with the transportation of equipment from the PRC to Kazakhstan, there were also difficulties with the attraction of foreign labor. But, thanks to the local administration, the regional office of KAZAKH INVEST, these issues were resolved in a timely manner, which contributed to the implementation of the project," said Fan Longfei, General Director of Taiynsha-Mai LLP.

According to the investor, the processed products will be exported to China and Russia.

"Everyone knows that North Kazakhstan is the country's leader in the cultivation of oilseeds, the sown area reaches 1 million hectares. This investor has implemented a large project, increasing the level of rapeseed processing. The enterprise is export-oriented, the project has been fully implemented through private investment, which is also very important. KAZAKH INVEST provided assistance in concluding an investment contract with the Investment Committee of the Ministry of Foreign Affairs of the Republic of Kazakhstan, within the framework of which equipment and components were imported duty-free," said Daniyar Shalabayev, regional director of KAZAKH INVEST in North Kazakhstan.

It should be noted that the implementation of the project will not only create new jobs, but also develop the economic and industrial potential of the region.